Albie : The Verbal Behavior Assistant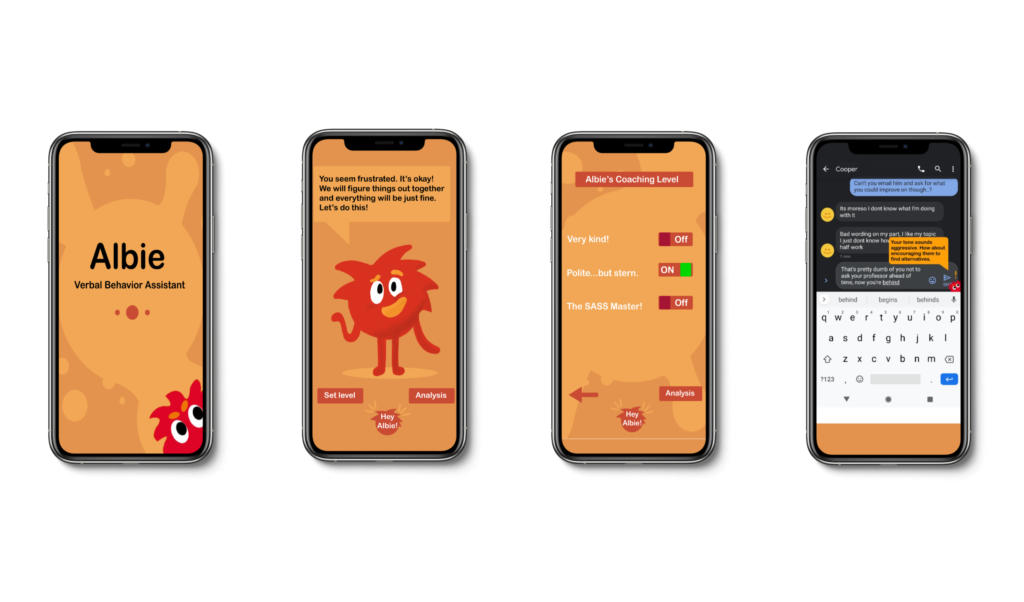 How can we make the world a better place? By being kind.
That is exactly what Albie was born to do!
Albie is an interactive app made through Invision, focusing on the demographic of 18-28 year olds on helping to improve their behavior overtime and just learning to speak kinder to others. Change Albie's coaching level based on how you personally liked to be talked to. Let this sassy little monster whip up a kinder human being!
Albie was a collaborative app project envisioned to help users improve their speaking habits and educate them on improving negative speaking behavior. Albie will monitor the user's tone in text messages or when you talk to Albie through the app. The app's conception was to improve behavior at the initial source, by informing users of correct information and clearing misconceptions before an argument starts. After the collaborative group figured out this is the goal we wanted to accomplish, we seperated and individually designed our own Albie's!
Talk to Albie by opening the app and he'll help you improve your speaking habits, or turn on the Albie app to work in the background, so when you send text messages, Albie can help monitor your loaded language usage and improve conversations digitally, before you press the send button! Albie was inspired by the mission to make the world a brighter place, by starting with the basics, just being freaking kind to one another.
As a designer, I couldn't help but imagine how my Albie app would look as different promotional products – especially other smart devices. Thus creating souvenir items, like Albie bags, pencils – heck maybe even an Albie umbrella! I am excited to further explore how Albie would be displayed on other smart devices – like this smart watch. So be on the lookout for updates and a fleshed out case study coming soon!