Wood County Parks Rebrand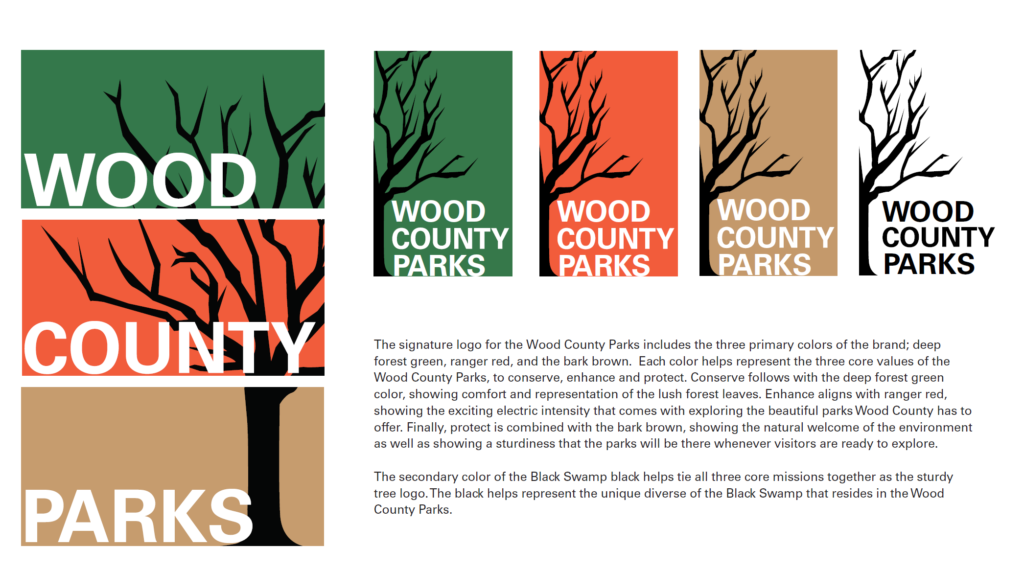 These skilled rebrand changes towards the Wood County Parks of Ohio. With a full-rebranded logo, font and style changes included along with a design brand standards manual and several touchpoints that include promotional products, two designed apps and an innovative designed product.
The designs were created to help promote the core values of the parks while producing a visually-friendly for a diverse audience of park-goers, while also elevating the rich and unique biodiversity the wood county parks offers. A prime example of this is the Black Swamp Preserve, which has unique jet black trees and swamp grounds, this is reflected in the primary logo.
The innovative product created for the Wood County Parks is a cardboard VR headset. Not only can the headset be branded, but follows the morals of the WCP by being recyclable and utilizes environmentally-friendly materials. This product would highly benefit the parks due to its ability to make trails accessible for all! Some trails may be too dangerous, or inaccessible to others who are not walking-able. With the WCP VR Headset, park goers can put on the headset and experience trails they have not been able to before! This way everyone can enjoy the trails, no matter what form they may take them on!
The last thing you want is to be on your phone during a hike at the park…
Another product that could enhance the WCP brand is the iNature Nature Trail Tracker (now say that 5 times fast)! The last thing you want to be doing is be on your phone while you're trying to enjoy the nature trail. With iNature, you take out your phone, click the start button and that's it! You put your phone back into your pocket and the app does the rest. iNature will track how many miles and steps you've walked and your trail path…but it also detects animal calls, plant identification and more! While you're on the trail, iNature will pick up animal sounds, or save pictures you take and identify them for your viewing pleasure once you're finished. iNature would enhance the park-goers' experience after they left the trails! Enticing them to explore more of the Wood County Parks.
Below show various promotional products that the Wood County Park may utilize with this updated rebrand including reusable straw tote bags, and several options of stationery sets for practical company purposes and for park donors. Also included is an updated version of the Wood County Park Website and their volunter page.
View the full PDF of WCP Brand Standard Manual for further information.